Meghan's Closet
@voila_meghan
Excellent condition. Leather and canvas. Navy, red & cream.
Sold
$280 $720
New without tags, Gucci Flora Botanica tote. Perfect condition. Tote is 9.5"x10.5"x4". 100% authentic.
NWT
$280 $400
Perfect condition NWT Botkier Lucy shoulder bag. Real leather, chain strap, 5 interior compartments. The color is a much brighter blue than the pictures show.
NWT
$120 $160
New, never worn, men's Sharks jersey. Customized with Murray #3. Bought this for my husband for our anniversary, but bought it way too big and can't return customized jerseys (whoops)!
Sold
$20 $36
Beautiful mint bib necklace. Completely sold out on BaubleBar. Perfect condition.
Sold
$18 $45
Sheer cotton fabric, can be worn over a slip or tank dress for a cute daytime look. Maxi length (please note that the hem is tied up in the pic)
Sold
$12 $22
Forever12 maxi skirt. Great condition.
Sold
$15 $32
Forever21 faux shearling & faux leather boots. Comfy, cozy & cute. Great condition with a bit of marking on the sole.
Sold
$25 $120
Foldable flats-- these are perfect to keep in your purse! Felt construction with felt rosette. Small markings on soles from wearing a few times, otherwise great condition.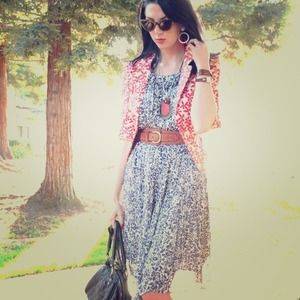 Sold
$35 $92
Perfect condition, great style!
Sold
$20 $60
Oversized coral and gold bib necklace originally from South Moon Under for $60.
Sold
$16 $48
Metallic finish, cap sleeves, bubble skirt
Loading more..